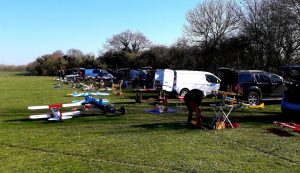 A very nice day for February 2019
INTRODUCTION
The Winchester Model Aeroplane Club provides members with the facilities to fly radio controlled aircraft in mid Hampshire. The club is flying orientated with the emphasis on relaxed sport flying. Unfortunately due to the surrounding farmland it is not possible to allow Jet Turbines or free flight models.
There are usually three or four competitive events per year organized well in advance ensuring that restriction to individual flying is minimized. Each event is accompanied by a barbecue and perhaps a swap meet.
Apart from an AGM there are no regular meetings away from the flying field.
THE FLYING FIELD
The flying site is available to club members for flying most days of the year . It is reached via a mile long farm track accessed via a padlocked gate. Crops are grown around the two acre grass patch and this does restrict the use of bungees for gliders. Parking of cars is adjacent to the flying area as shown in the photographs, and a permanent caravan means that shelter from cold and rain is always available.
Location of flying site – map

TRAINING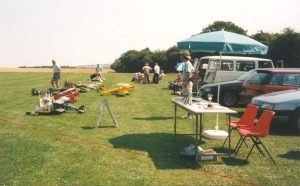 The club takes the training of it's novice pilots seriously and several members are nominated to provide this service free of charge. There are examiners within the club to enable flyers to pass the BMFA 'A' and 'B' Certificates. It is a club rule that people do not fly solo until the 'A' certificate is achieved.
MEMBERSHIP
The club usually operates with around 85 members.
Full details of membership are available on the membership page.
HISTORY
Winchester Model Aeroplane Club was first formed in 1936, by just a few keen free-flight modellers. This only lasted until 1939, when the outbreak of the Second World War saw the end of the club.
During the sixties the club relocated to the ground of Hursley Cricket Club and, to this day, members of the club still fly there.
Site restrictions and a membership which had grown from fourteen in 1960 to over one hundred by the nineteen eighties prompted the start of another search for a site without restrictions. In 1982 negotiations were started with a farmer for a permanent piece of land we could call our own and erect a club house. The site, following preparation and seeding with grass was opened in April 1989 by the General Secretary of the BMFA accompanied by his wife. The two acre square site now complete with club hut with good toilet facilities and surrounded by two hundred acres of open farmland is as good as it gets.